My Listening Week: 3/3/23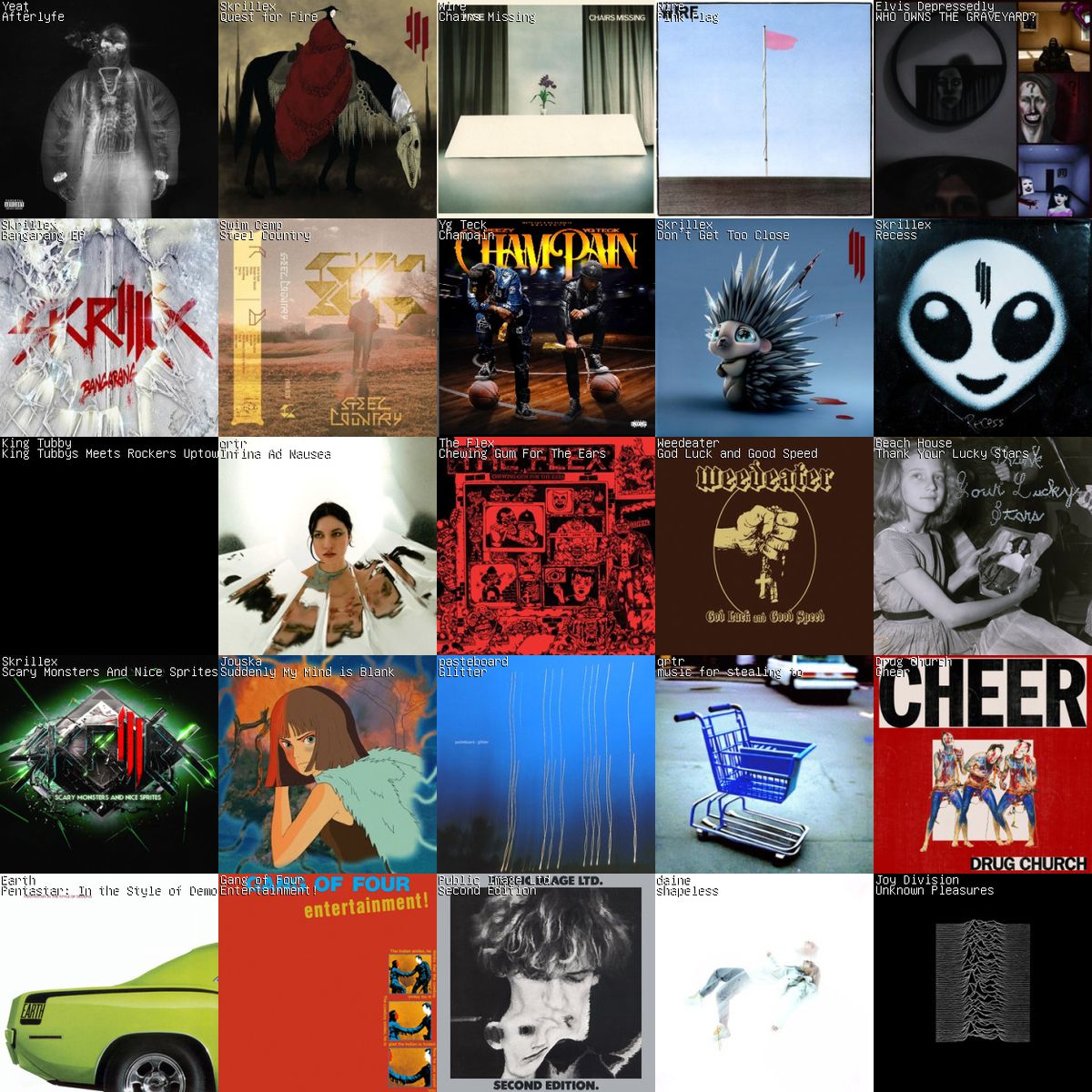 Everyone in my Twitter circle uses Last.fm to track the music we stream in a given week, and then we all join in the ritual of posting a 5x5 grid on Friday mornings that displays the last seven days' worth of personal listening data. It's a fun way to see what everyone's been jamming, but as a writer, the activity can feel a little static. We all just chuck these overwhelming image collages onto our feeds and half-mindlessly scroll through the surge, which isn't really the most active or fulfilling way to engage with music, in my opinion.
So, in order to make it a little more interesting for myself, and to give myself a nice little writing prompt on Friday mornings, I've decided to start posting my grids on this blog and jot down a few thoughts — fully-formed, half-formed, quarter-formed, the whole spectrum — about some of the pictured music. Maybe I'll tweak the format in future editions, but for now I'll just blurb about a few of the selections. Here goes:
Yeat - Afterlyfe
Might be the best thing he's done yet? That's what I said about last year's Lyfe, which dialed into his mouth-numbing rage-rap sweet-spot for a trim 34 minutes. At twice the length, Afterlyfe is bloated, but in the way Yeat's puffy jacket he's sporting on the album cover is bloated. The padding serves a purpose, both for flaunting style and providing a utilitarian packing-in of eccentric beats, flows and outlandish vocal warbles. He's doing way more than Carti-lite here, but with plenty of Tonka mentions to go around.
Skrillex - Quest for Fire and Don't Get Too Close
Mmmmm some of the best (maybe the best?) music I've heard in 2023? Not every song, but between these two LP's there's enough dopamine-injecting, bubblegum-snapping, Red Bull-slurping, Pop Rocks-munching, solo cup-cracking fun to fill out my next 52 weekends.
Wire - Chairs Missing and Pink Flag
I finished reading Simon Reynolds' post-punk manuscript, Rip it Up and Start Again, this week, so I was following along with the book's soundtrack (hence the Gang of Four, PiL and Joy Division on here, too). There's a subtle warmth in Wire's sound, particularly in the guitar tones on Pink Flag, and the riffs that're a little more square than hexagonal, that make them click with me in a way Gang of Four don't. Also, Public Image: First Issue > Metal Box.
Swim Camp - Steel Country
Loooooot of DSU-era Alex G in the vocal melodies and compositions, specifically that wobbly, phased-out lick on the intro track "Line in Sand." This was put out on Julia's War, the current temple for "Philly shit" shoegaze. This dabbles in that kind of noisy weirdness more than it dedicates, and I kind of like the one-foot-in/one-foot-out approach. Good songs, if a little reminiscent of their obvious influences.
The Flex - Chewing Gum for the Ears
Makes me want to flip over an 18-seater banquet table dressed elegantly for Christmas dinner, ham and all. Would've made my best hardcore of 2022 list if it didn't miss me 'til late December, but since then it's been a go-to for when I need something that wallops my ears like a drunken townie in a bar fight with nothing to lose.
Elvis Depressedly - Who Owns the Graveyard?
Will probably have more thoughts on this eventually. Didn't get to spend that much time with it this week, but my first impression is that it drowns a little bit in its own ambition. Some of Mat Cothran's most out-there ideas yet; the finger-snapping "3 American Mantras," the 808s and Heartbreak-y anthem for those on the cliff's edge ("Say Hi") — which almost bangs, but can only muster the serotonin to nod its head — and the verging-on-irritating chopped-up vocals on the oblique title-track. "Sober No More," a back-porch-with-the-whiskey-jug country ballad, is fucking brilliant, though. Lot to dig into here, a lot I can see myself coming around to.