My Listening Week: 5/5/23
Thoughts on Blithe Field, Peezy, Superdrag and Next Step Up.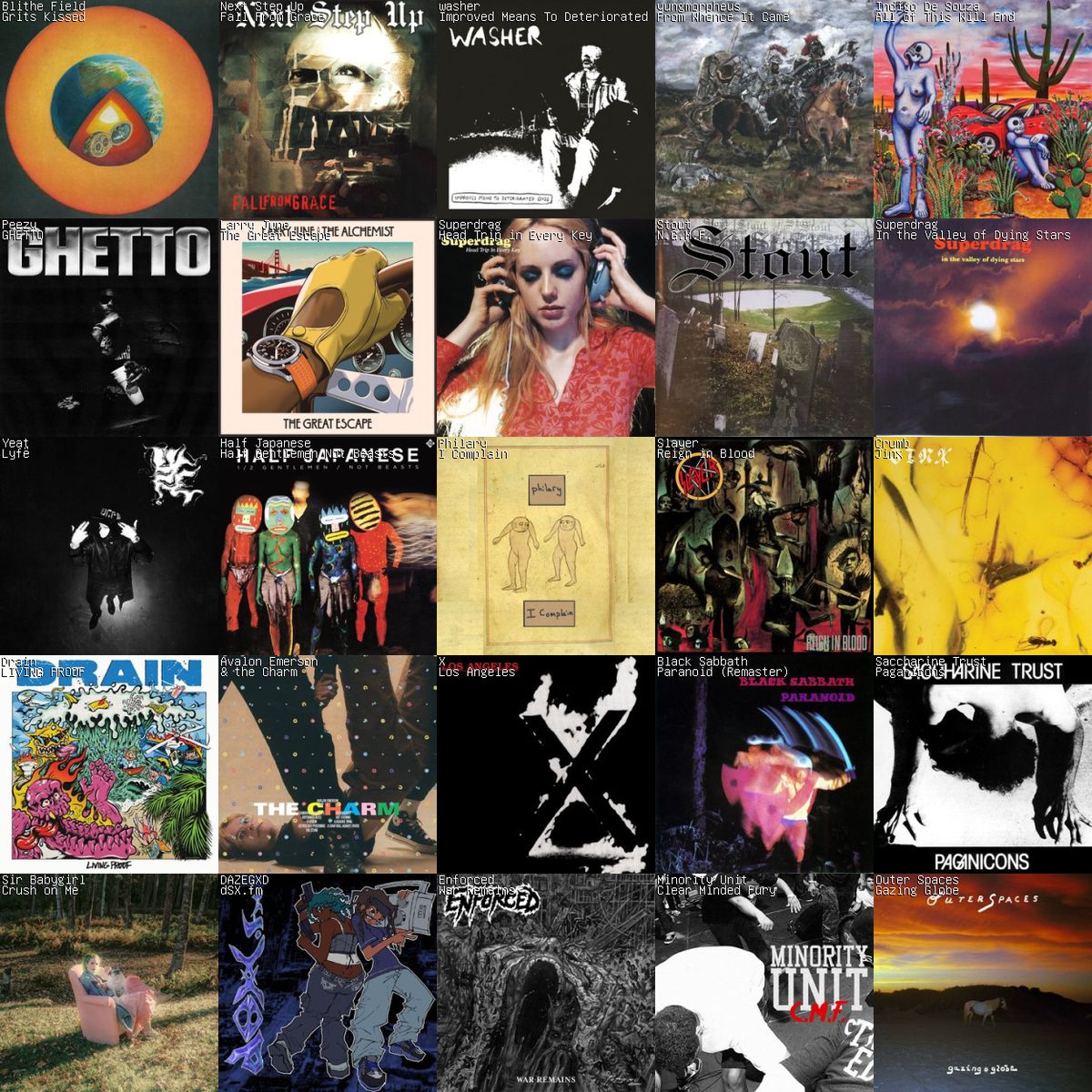 Every Friday, my corner of music Twitter uses Last.fm data to make 5x5 grids of what we listened to throughout the last seven days. In this column, I share my grid and write a few blurbs about some standout albums from the pool.
Blithe Field - Grits Kissed
I didn't even know a new Blithe Field album had dropped until I realized it had already been out for a month, so I've been bingeing on this record the last couple weeks. For the uninitiated, Blithe Field is the ambient instrumental project of Spencer Radcliffe, who also makes gloomy, pretty indie-folk under his own name, and crawled out of the same lo-fi Bandcamp-pop swamp that birthed Alex G, Elvis Depresedly, etc. I think a lot of his rock music is hit or miss (I love the stuff that hits, though, like 2017's Enjoy the Great Outdoors), but the Blithe Field project has blossomed from a craggy sound-collage experiment into an increasingly breathtaking exploration of synthy, jazzy, clickety-clackity folktronica, with an ambitious, modern classical undergirding.
For years, Blithe Field has been my No. 1 go-to music to play while I write. It's soft, supple, and lightly playful in a way that's hypnotizing but not distractingly repetitive. There're a lot of fickle, peering-from-behind-a-wall melodies in his music that glisten on the surface of his weary synths and thrumming acoustic drums. Some of his recent output, including Grits Kissed, reminds me of the post-rock band Do Make Say Think, and some of their less dramatic, less bombastic peer groups of the early 2000s. Some Blithe Field songs are dark, stormy and densely layered, but I wouldn't call any of it thrilling. This is indoor music for staring out the window on a rainy day, or curling up on a porch chair with a mug of coffee.
It's been three years since he dropped 2020's masterful Hymn for Anyone, and in that time it sounds like Radcliffe has revisited some of the quirks that made his 2012 LP, Warm Blood, a bit of a cult-classic. The sampled vocal snippets are back; spoken-word clips fielded from answering machines and what I can only imagine are bits of YouTube ephemera (the cartoonish British necromancer in "Magic Spell" sounds like a Yu-Gi-Oh! sound bite, but Google can't confirm for me). Hymn for Anyone and 2019's also-great Ward Unbending contained a lot of delicate piano playing, but here, the earthy percussion and woozy, cassette-era synth loops drive songs like the 10-minute "Earth Maintenance," and I'm here for it. I love basically every Blithe Field record (there're over a dozen now), but this might be the best full body of work he's dropped in a couple years.
Next Step Up - Fall From Grace
Arguably the most notorious hardcore band out of Baltimore until Trapped Under Ice (and then Turnstile), Next Step Up are rulers of Nineties stomp-'em heavy. I had never spent very much time with their music until recently, and the last couple weeks I've been stuck on their 1995 classic, Fall From Grace. Mean, cold, uncompromising, anti-racist and moshy as all hell, this has so much kinship with the Nineties NYHC bands that I love (Merauder, Stigmata, All Out War, etc.), and holds a candle to even the most brutal, buffed-out bands of today.
Peezy - Ghetto
One of Detroit's recent breakout stars, Peezy's 2022 LP, Only Built 4 Diamond Links, contains some of the greatest rap songs I've heard in a while. Funny, confident, menacing, suave and armed with an efficient lyrical precision, the best Peezy songs are easy to get reeled into, and there're several of them on this eight-song snack-tape. His grip on brisk, piano-laden beats is so much tighter than many of his recent Michigan peers who opt for dancing outside the lines with polyrhythmic glee. As he demonstrated on the eternal "2 Million Up," Peezy knows how to lock into a groove and deliver a compelling sermon like you're his grandkid sitting on his knee during story time.
The rags-to-riches boasts of "Brooklyn Chop House" avoid triteness with colorful remarks about "statues in my living room" and by hearing Peezy reckon with the genuine longing he has for his loved ones back home while he enjoys the spoils of his new Hollywood lifestyle. Like his past projects, there're a couple no-holds-barred sex raps on here, and while the chemistry on "She Ain't Scared" sounds forced and awkward, Peezy and Kash Doll doll make for a fun pairing on "FW That," which sounds like a beat FOREVERROLLING would make for EST Gee.
The G-funk swagger of "Real Stars" suits Peezy's deep, sturdy cadence, and while I think the ballads "First Night" and "Heart In It" sag a little, "Gotti and Bandz" and "Don't Know Shit" bolster his signature flows while he raps about self-determination and advises younger acolytes to put down the weed and grind, respectively. These topics might fall flat or come across as feigned if they were spoken by a less charismatic figure, but everything that comes out of Peezy's mouth is coolly convincing, and even when he flirts with #grindset coffee posts, I still find myself nodding along in approval. Peezy is pretty damn hard to dislike.
Superdrag - Head Trip in Every Key
Maybe it's just the company I keep, but it seems like Superdrag are in the midst of a renaissance right now among listeners who weren't around for their Nineties run (myself included). Their 1996 power-pop classic, Regretfully Yours, seems like an increasingly common reference point, while its 1998 follow-up, Head Trip in Every Key, continues to sound like nothing else but also so much else. If that makes sense? Similar to the trajectory Fountains of Wayne took between Utopia Parkway and Welcome Interstate Managers, this album is as much a pop-rock record as it is a genre exercise in longer, more ambitious songwriting with a much more 60s psychedelia-influenced flair. It's a lot harder to pin down than Regretfully Yours, but just as easy to love. Give it a go if you haven't yet.