My Listening Week: 4/21/23
Reviews of Magdalena Bay, Cindy, Initiate, Ice Spice and more.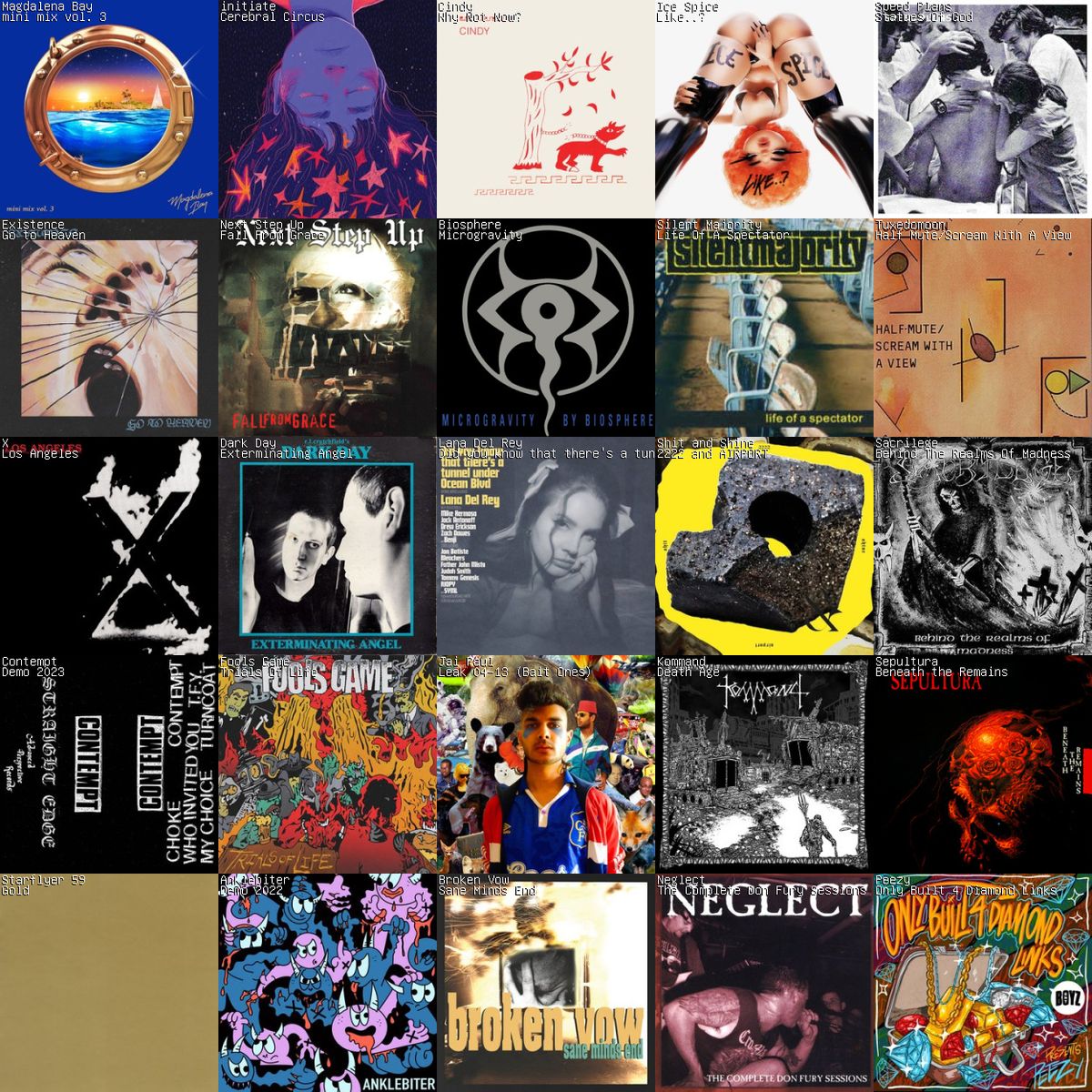 Every Friday, my corner of music Twitter uses Last.fm data to make 5x5 grids of what we listened to throughout the last seven days. In this column, I share my grid and write a few blurbs about some standout albums from the pool.
Hey readers! I haven't done one of these columns in a couple weeks cause I've been out and about and simply haven't had the time. I'm back this week, though, and I have some thoughts on my last seven-day stretch of listening. I've been reading a compendium of Sub Pop zines, so some of the early Eighties post-punky stuff on this grid are accompaniments to what's mentioned in those reviews. The other stuff is, well, just some other shit (mostly good) that I've been listening to. Below, are some thoughts.
Magdalena Bay - mini mix vol. 3
I spent some time on an airplane last weekend, which meant I had the opportunity to try out my newly-purchased noise-cancelling headphones while I was seated above a whirring turbine. The headphones blocked out sooo much of the droning nonsense that people are subjected to on planes, and it was the perfect opportunity to bump is little collection of new Magdalena Bay songs. In 2021, this avante-pop duo dropped one of the most wildly fun albums of the year, which I sadly didn't give the time of day until late November, so it didn't crack the top 10 of my 2021 AOTY list (No. 13 is pretty damn good, though). Earlier this year, I wished the Caroline Polachek record everyone is raving about sounded more like what these two were up to, and this new sampling of knockouts only reinforces that belief.
Magdalena Bay toy with chintzy synths, exude "genre-hopping" tendencies and aren't afraid to get a little kooky, but at the end of the day, they write really fucking great pop hooks, and have an instinctual understanding of how to write a song that only gets catchier and more engrossing as it goes on. The muzaky intro and outro tracks on mini mix vol. 3 are a little superfluous, but songs like the terrifically throttling "EXO" — with its fingernails-tearing-through-seat-cushion guitar riff, propulsive drums and breathy yelps — and the sumptuously groovy "Top Dog" — a playful, sexy, funny throwback to early 2000s R&B that's smart, earnest and staggeringly hooky — are some of their best work yet. "Tonguetwister" is too, a dizzyingly rhythmic, tropical bop with streaks of arpeggiating synths and a gleefully babbling refrain. And "Wandering Eyes"! A sentimental yet convincing 60s ballad that pulls from Japanese Breakfast's "Kokomo, IN" in all the right ways, and concludes with a flooring crescendo replete with squeaky singing and loooud synths.
I love, love, love a good hook, but when it comes to polished pop music, I'm very particular. I usually like my pop on the artier side, stuff that's a little more adventurous than the straight-and-narrow, but still grounded in providing a good sing-along. Magdalena Bay have given me exactly what I want out of this kind of pop record for two releases in a row now. Yep, yep, yep this is that good shit. And shit, it sounds even better 35,000 feet in the air!
Cindy - Why Not Now?
Cindy are a band who I was recommended by someone in the Discord server for my podcast, Endless Scroll, where many of our listeners talk about music in a way that's uninhibited by the shrieking terrors of Twitter and the ass-thumbing rubes on Reddit (join us!). Last year, I really fell in love with this San Francisco band called April Magazine who sound like Grouper, Mazzy Star and Nico-era Velvet Underground tossed in a blender, and it turns out that this band Cindy are part of the same scene as April Magazine, share members, and have a very similar sound. I bought their 2021 album, 2:1, a couple months back after hearing just one-and-a-half songs, and I was stoked that they already had another LP in the pipeline, Why Not Now?
I excitedly gave this record a couple spins this week and....eh. According to the album's Bandcamp bio, main singer-songwriter Karina Gill worked with a new lineup for this album (after working with the same folks for the last three), and while the pedigree of the personnel is impressive (members of April Magazine, Flowertown, Telephone Numbers, etc.), I feel like this record is lacking the distinct vision of their previous work. To be fair, I could see someone criticizing Cindy for committing too strictly to a vision on their past material, given the dynamic variation on 2:1 and 2018's Cindy is sparse, and those albums aren't daring to be anything more than what they are; muted, wistful, slow-strolling indie-pop with fairly obvious influences.
Why Not Now? ventures outside of that lane with synth-stricken instrumental songs, short little jangle-pop jogs and more hushed balladry. Songs like the four-minute "A Trumpet on the Hillside" work wonderfully, and I wouldn't be mad if the instrumental track "Standard Candle #3" went on three times as long as it does. There're some great tunes on here, but overall the album's flow feels jumbled and there aren't any utter stunners like "Deer in Japan," a song from 2:1 that I genuinely thought was perfect the first time I heard it.  The stakes aren't super high for what Cindy are doing, and it's hard to find any of the songs on this album genuinely objectionable, because they're all, at their worst, a little forgettable and boring, but still quite pleasant. But I think this band has the potential for a front-to-back masterpiece in them. I hope they keep cranking out records. They'll get there.
Initiate - Cerebral Circus
Initiate are a hardcore band from California who caught a lot of people's ears (including mine) with their early 2020 EP, Lavender, which hit right before the pandemic and never had the chance to pop off live the way it could've. No matter, because the band have returned with a full-length that blows those songs out of the water. Cerebral Circus is absolutely one of the most interesting hardcore albums I've heard all year. At a time when there're so many active strains of hardcore, and so many bands who're bending the genre in fresh, if not novel, sounding ways, it's genuinely impressive when a band puts something out that manages to cut through that noise. Cerebral Circus does it.
I'm not a huge fan of Nineties post-hardcore, but Initiate pull from bands like Burn and Quicksand in a really creative, and not at all reductive, way on these songs. Opener "Waste Your Life" comes blaring through with a huge, wiggly thrash-metal riff, but it's being played over a groove that could reasonably be described as funky, all while frontperson Crystal Pak roars with her furious delivery that fluctuates mystifyingly between a Jeremy Bolm-esque yowl and a Nineties metalcore bark. It's a total smack in the face, and right from the gate, it's clear that producer Zach Tuch's boardwork makes these songs pop out of the fucking speakers in a way that's competitive with your favorite big-room alt-rock band.
Initiate play their asses off on these tracks, and for every outwardly (but never, ever desperately, and that's crucial to their appeal) catchy guitar lick or vocal line on here, there's an utterly devastating mosh part or throat-slicing metal riff. This isn't an attempt at crossing over into some other scene, it's an honest execution of a specific vision, helmed by extraordinarily capable musicians with myriad influences who aren't playing by any one genre's rules. "Genre-less" is such a dumb term, but it really is difficult to narrow this record down into one strand of hardcore. I think someone who might consider Touché Amoré to be the heaviest band they like could fall for this record, but I also think anyone who fawned over the riffs on last year's Mindforce LP (or any of the late-Eighties NYHC shit, fwiw) could find plenty to love on here.
I'm really impressed with the whole thing, but my favorite moment is during the end of "Fire Starter" when Pak blasts, "You're a fucking coward, you've got nothing to respect/If you ever look my way again I'll break your fucking neck" — and then the song ends, right there. Good god, you can practically hear the venue floors creaking from a crowd who'll be stunned silent when that shit is howled in a live setting. Initiate play Pittsburgh in 2023 challenge.
Existence - Go to Heaven
Shoutout Owen of The Pitch of Discontent for the rec here. I usually keep up with what Quality Control Records HQ are doing, but had missed this LP from Stockholm's Existence, which dropped the same day on the same label as another good, but compared to this, not as good, LP from the band Blow Your Brains Out. When it comes to playing this style of music, you can pretty much go one of two ways; either beef up the production so it sounds more metal à la Power Trip or Enforced, or play Combat Records-tier riffs with a looser hardcore presentation. Existence split those lanes down the middle on Go to Heaven.
The production is substantial so every instrument is loud and clobbering, the riffs are tasty enough to rival any legit thrash band, but there's a hardcore bounce to these songs, and a scabrous delivery by frontman Linus, that ground this record in hardcore while always dancing on the precipice of metal. There're a few Ride the Lightning-ish acoustic guitar passages, and a stray solo here and there, but Existence don't bother with predictable shred sections, and the songs always end up going somewhere my ear didn't necessarily expect them to. Lots of metalcore mosh without ever sounding like a metalcore band. Some Seasons in the Size of Days-era Integrity snarl without losing itself to the saminess that plagues most Integrity records. We've been in a crossover renaissance for half-a-decade now, and Existence are a great reminder that when this style is done right, it never goes out of vogue.
Silent Majority - Life of a Spectator
I'm seeing Silent Majority later this summer at the This Is Hardcore festival, so my goal is to get into them by then. I've yet to click with this band. Long Island legends who pioneered one of the most lasting forms of early 2000s rock music (tri-state pop-punk), these guys are undoubtedly extremely important to the fabric of punk music in the 21st century, and 1997's Life of a Spectator, their sole full-length, still sounds like its operating on a different plane of creativity. The band are business moguls in the art of melodies, leasing the listener roof-raising choruses that you don't even realize are stuck in your head until you've already sung along to four bars. The unique, start-stop tempos and rising-falling-rising-exploding vocal lines were so obviously borrowed by the similarly influential Glassjaw (whose Daryl Palumbo played in Silent Majority), and Taking Back Sunday modeled so much of their commercial-cracking sound on what this record achieved half-a-decade earlier.
I can acknowledge how important this record is, and songs like "No I'm Not" and "Taming the L Word" are immediate knockouts, but I'm very particular when it comes to hardcore that's packed with melody, and despite its ahead-of-its-time pop-punk proclivities, this is still a hardcore record. And usually, I want my hardcore records to be heavy, fast, angry, noisy, dark or some combination of those attributes, and while there's plenty of emotion and real-deal political musings in these lyrics, sonically, it doesn't deliver the walloping punch that I turn to aggressive music for. I think with a few more spins I can be sold. It'll feel like a wasted opportunity if I see this band in a huge venue filled with thousands of screaming fans while I'm posted up in the back with my arms crossed.
Lana Del Rey - Did you know there's a tunnel under Ocean Blvd?
Astute readers will notice that this album has been popping up in my grid for about a month now. For people who've known me or read my work for a long time, that might come as a bit of a surprise. I've never professed to be a Lana Del Rey fan. Never had anything against her, but I wasn't even tangentially curious about her world of pop music when Born to Die came out in my late high-school years, and as she crawled her way into critical darling status with a series of increasingly smarter, savvier releases throughout the late 2010s, I still wasn't intrigued enough to give any of them a proper go. It's just not my world of music. Usually. But last month, my co-host and trusted friend Eric told me that I should spend some time with her new record, and since Eric usually knows what I like, I figured I'd give it a go.
I haven't been able to turn this fucking record off. In fact, it got me on a simultaneous kick of Norman Fucking Rockwell! as well, and I think I'll be able to consider myself a genuine Lana fan within a month's time. Millions of words have already been spilled over LDR. I don't know if I have anything all that intelligent to say about this body of work yet, or anything useful to add to the general critical characterization of her work. Maybe I will down the line, but for now, all I can say is that this record — particularly the first two thirds, because I do think it falls off a bit in the back-end — is utterly mesmerizing. Her crackling, whispery, luscious, aching voice is impossible to divert my ears from. The concepts range from tear-jerkingly sweet ("The Grants") to devastating ("A&W") to funny ("Jon Batiste interlude") to silly ("Peppers") and back again.
I don't even really know what else to say about this album at this time. It's been a while since I've connected with a record so deeply that I feel unable to verbalize what I enjoy about it. I'm just in awe of what I hear every time I start it up, and it feels like I'll be trying to soak it all in for an entire year before I even have the ability to write about it in a legitimate way. Or maybe I never will. Maybe I'll just harbor that enjoyment privately and write about hardcore some more. I can say for certain, though, that the best riff or mosh part I'll hear all year won't have the emotional impact of Lana's voice when she swoons during the final chorus of "Sweet."
Ice Spice - Like..?
Ice Spice was the breakout rapper of 2022, so of course, when she dropped her debut EP this January, I listened. Anyone who pays attention to contemporary music listened. It was great. I liked it a lot, threw a couple songs in my playlists,  and then moved on with whatever glut of new releases dropped the next week. "Munch" was an instant classic in 2022, "In Ha Mood" felt like another W, and her "Boys a Liar" remix with Pinkpantheress is her most popular song yet. But when I was on the plane over the weekend, "Princess Diana" (the original version, I hadn't heard the Nicki Minaj remix yet) popped up in my playlist and I was just floored by how great that song is. It was my favorite song on the EP when I listened in January, but I hadn't really heard it much since, and it just hit me how slyly catchy, clever and danceable that song is.
Ice is already a master at one-liners. "I'm thick 'cause I be eatin' oats." "Thinkin' bout me when he brushin' his teeth." "He keep textin' I leave him on seen." "She make in a year what I spend on a chain."  Those are all from this song's two-and-a-half-minute runtime, and it seems like every song of hers includes a few lines like that that pop in my head when I'm doing something menial, like brushing my teeth, for example. Her sneaky confidence and effortless style is so goddamn addictive, and I think all six of the songs on this EP have hit potential, and probably will be by the end of the year. I think Ice Spice meets the hype. She's the most lovable celebrity we've had in a minute, and a singular musical force who's already remaking the sound of mainstream rap in her image. I can't imagine disliking these songs.