My Listening Week: 3/17/23
Mini reviews of Zulu, Judiciary, Skourge, Tanukichan, Yo La Tengo and more.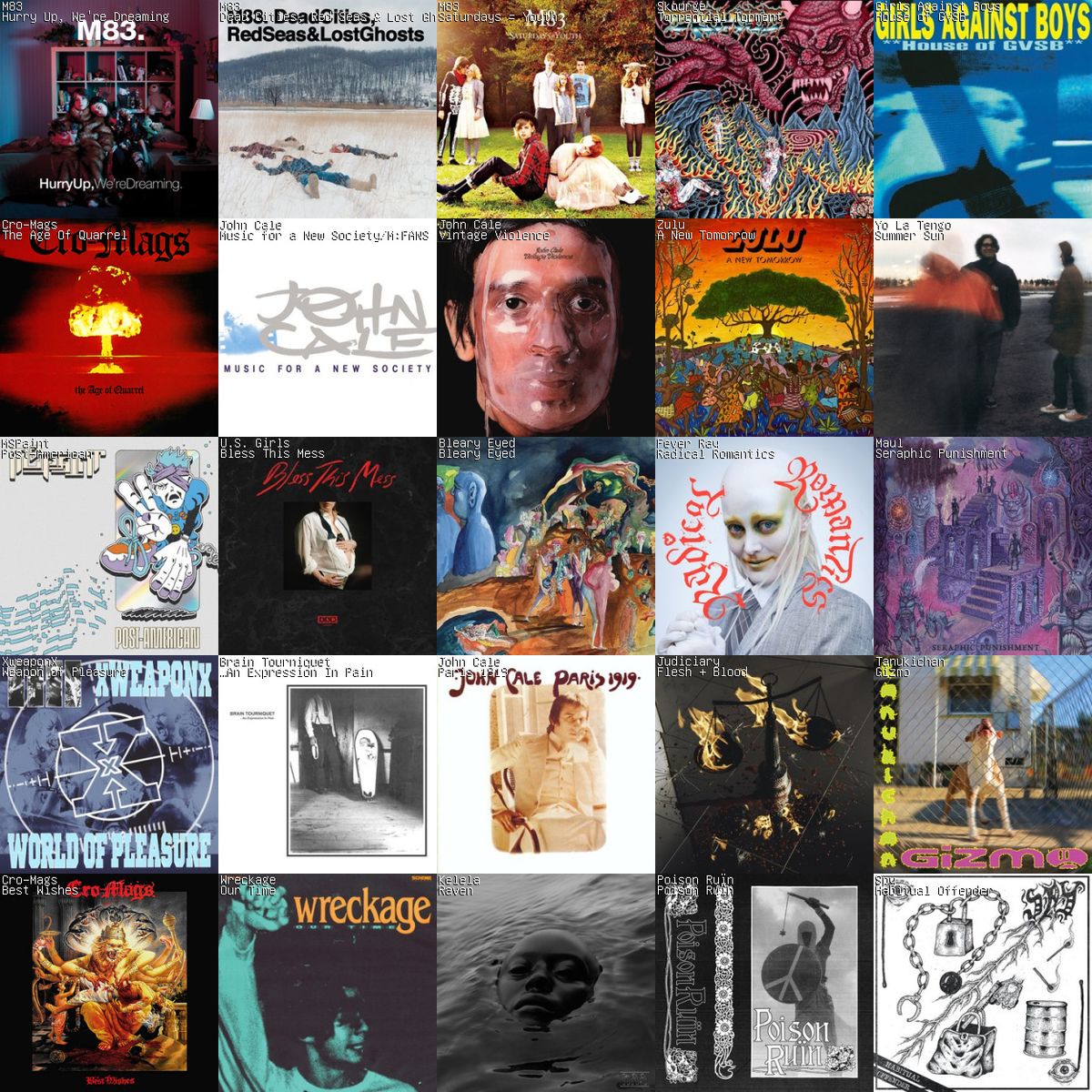 I used this week to catch up on some of the more critically acclaimed 2023 albums that I hadn't heard yet (Fever Ray, Kelela, U.S. Girls), and also put some hours into some fresh hardcore. I also listened to a lot of John Cale, apparently. Good stuff. Below, are a few thoughts on some of the above standouts.
Tanukichan - Gizmo
This record didn't blow my socks off the first time I heard it, but I haven't been able to put it down for the last month or so. I think Tanukichan's 2018 LP, Sundays, has some higher highs on an individual song level, but Gizmo is a hypnotic, cohesive smattering of groovy indie-gaze that delivers on the RIYL: Soccer Mommy, Jay Som promise that so many present-day indie-rockers can't quite achieve. The vocals have that downcast, slowcore gloominess that's become the dominant singing style of this era, but the songs really move. Amazing basslines, drums that make me bang the dash, and just enough shoegaze texture on the guitars without smothering their sprightly spirit in a quilt of effects. That song "Like You"? Damn, what a gem.
Zulu - A New Tomorrow
I saw Zulu play a hardcore festival a couple months ago. Given that bands like Trapped Under Ice, Never Ending Game and End It were on the bill, I didn't expect that Zulu would spur the most violent crowd reaction, but I was wrong. Their set was violent. Zulu aren't the most intimidating looking crew of folks (especially compared to the more muscular, and also older, dudes in Never Ending Game) but they just dealt one devastating breakdown after the other, their songs punching through the sweaty, sold-out club like a firefighter axing down a door. The fury was palpable. The sound they were making was dense and all-encompassing, like trying to breathe in a plume of bonfire smoke. It was everything I wanted out of a heavy hardcore band's performance, and there're plenty of moments on A New Tomorrow that make the hairs on my spine have a flashback to how they felt in that Baltimore rock club, when I braced myself against swarms of flailing fists looking for fleshy targets. Sometimes, you really do gotta see it live to get it.
Skourge - Torrential Torment
New LP from Texas' crustiest crossover thrashers. I bet this shits sounds like a cloud of hornets in the live setting, because it sounds like a recording of a cloud of hornets coming out of my speakers. It checks all the boxes for what I want out of a riff-based hardcore record, but I gotta say, after several play-throughs, I wish I had a few more hornet welts to show for it. It's hard. It's caustic. There're a few points that definitely make me bang my head. There's also a lot of forgettable filler. It's 29 minutes long and drags by the 18-minute mark. That's no good. I like this. If you asked me if I liked Skourge I'd say yes. But with such a glut of above-par crossover thrash in the zeitgeist right now (including Fugitive, which features one of the dudes from Skourge), I'm not sure I'm coming back to this one.
Yo La Tengo - Summer Sun
I've seen this described as one of the weakest, most fleeting Yo La Tengo records. I think that's moreso due to circumstance than objective quality. This was the one that broke their impenetrable streak of knockouts — Painful, Electr-o Pura, I Can Feel the Heart..., And Then Nothing..., the amazingly soothing Sounds of the Sounds of Silence score and then this. A...perfectly good! Yo La Tengo record. As someone entering their catalog through every door and window other than the front entrance of chronology, I don't have the context for how disappointing it must have felt when the streak finally shriveled and this band put out a record that was less than tongue-on-the-floor, eyes-exploding-like-firecrackers spec-tac-u-laaar. I listened to it once this week and I liked it! That's all I got for now.
Judiciary - Flesh & Blood
I was really hot on Judiciary's 2019 LP, Surface Noise, when that shit came out. Since then, their trendy breed of lumber-truck-exceeding-its-weight-limit hardcore has bubbled and burst, and I'm feeling my interest begin to wane on hardcore bands who use beefy, glossy, modern-sounding metal production but don't have the metal riffs to justify their own heft. Yes, this hits hard. Yes, it adheres to so many of the turn-of-the-century small-"m" metalcore conventions that I'll always have a pavlovian response to given my high-school iTunes library (little sweepy guitar leads above breakdowns, razory panic chords, chug-chug-HOLD-chug-chug-HOLD-chug-a-chug-a-chug-chug, Lamb of God's leftover riffs, did I mention breakdowns?). I don't know, man. Do we neeeed more stuff that just sounds like less memorable Knocked Loose? Do we neeeed more metalcore that dudes in Obituary shirts can like without embarrassment? Maybe! It's fun! I'm never gonna actually outgrow this kind of thing and the bands who manage to do this sound best will always strike a chord with me. This record doesn't feel like it's adding to that milieu, though. Play me one song and I'm in. After three of 'em in a row I'm just reaching for my Entombed and chasing it with 100 Demons. Sometimes, the cocktail muddies the flavors.
xWeaponx, World of Pleasure - Weapon of Pleasure
This is the best hardcore split I've heard in a while. It takes an immense amount of talent to write a convincing stabbed-in-the-back diatribe in 2023, but "Paid in Blood"'s giddy call for violent retribution over an unspecified personal slight makes me want to go feral on some high-school enemy I haven't thought about in 10 years. You know what we do need? More irresistible pile-on chants, and "This is a war fought only in vengeance/This is a debt paid only in blood," supplies the goods. World of Pleasure's side is even more searing. So far, they've only released splits and short EP's. I'd love to hear an eight-song send-up from those xwarriorsx. Band fucking rules.